Ocean Spray Beach Resort provides families and groups  with the perfect escape from the fast and furious pace of city life. The Resort is  located just 2.5 hours from both Seattle and Portland in the center of Grayland, WA on Washington's South Beach. You will be within a 5 minute walk to the Pacific Ocean. The property is reminiscent of a small mid-century village with 10 charming cottages- all uniquely decorated.  Each home is a fully outfitted with everything you need for a relaxing, fun-filled time away including full kitchens, electric fireplaces, HDTD/Cable, DVD and Wifi. 
The Ocean Spray has something for nearly everyone. We offer 2 indoor meeting spaces for groups to host events, classes, workshops, etc. With   private and semi-private accommodations, on-site recreation,  modern conference facilities, and outdoor areas for special gatherings, day or night. It is the perfect venue for groups up to 40 guests.
The Ocean Spray Beach Resort is perfect location for:
Retreats
Reunions
Events
Seminars
Training and Team Building
Yoga and Wellness
Fishing, crabbing and clamming
Whatever needs your group may have, The Owner, Diane will  meet them. She is  ready to help you with your next retreat, reunion, or event. Plan your escape to Grayland and enjoy vintage charm with modern conveniences away from it all – AT THE BEACH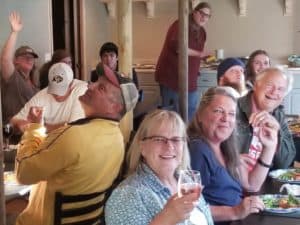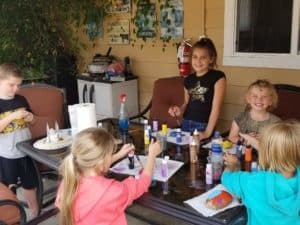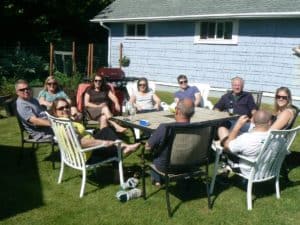 Reservations For Events/Retreats/Reunions
Please call our office for availability: (360) 986-6500.  Reservations for events cannot be made online.
We can tentatively reserve space with a 2 week hold between September and June.
Ocean Spray Regulars with annual dates need to advise the Ocean Spray 1 year in advance.
Ocean Spray Regulars with bi-annual dates need to advise the Ocean Spray 2 years in advance.
Ocean Spray Regulars with bi-annual events must be confirmed or canceled 1 year in advance.
Once the dates are confirmed an agreement is emailed to the Group Registrar.
The Ocean Spray Beach Resort is not obligated to hold space, either housing or meeting areas, for any group for which a signed agreement and deposit have not been received by Ocean Spray Beach Resort on or before the dates stated on the agreement.
Arrangements and agreement procedures are to be handled by one representative of the group – Group Registrar
Multiple contacts can cause confusion with the setup of your retreat.
A deposit of 20% of the total anticipated bill is required to reserve space for a group. 
The deposit is refunded to the Group Registrar at the end of registration for the event (if the group meets its minimum number guarantees).
If the group should cancel their reservation, the deposit is seventy-five percent (75%) refundable up to sixty (60) days prior to the scheduled start of the event and six (6) months for groups with exclusive use of the facilities. If a retreat is canceled within 60 days of start date, the deposit is not refunded.
Ocean Spray Regulars * (Annually or Bi-Annually) are exempt from the deposit.  A Credit Card number will secure the reservation until check-in for Ocean Spray Regulars.
Exclusive Use of the Grounds
Exclusive use of Ocean Spray Beach Resort requires a guarantee of a minimum number of guests depending on the event.  See Requirements.
Check-in / Check-out Times
Check-in and check-out times will be stated on the agreement.  Typical check-in time is 3pm; check-out time is 11am.
There is an additional charge added for groups requesting early check-in or late check-out.
Meeting areas are assigned to groups by Ocean Spray Beach Resort as required by group size, needs, and availability.
There is no additional charge for meeting spaces with an overnight retreat.
There is a meeting room charge for groups that come to Ocean Spray for a day use.  $100.00/10 hours
Housing Charts & Group Roster
A completed set of Housing Assignments is to be provided to Ocean Spray with the deposit.
The registrar is to provide Ocean Spray Beach Resort with the Housing Assignments including the names, address, email, Cottage Number and bed assignment of each participant (or family) upon arrival for use by Ocean Spray Beach Resort. This is a requirement of Ocean Spray Beach Resort following the guidelines of the Washington State Innkeepers Law.
Final payment is made by each participant at Check-in time.  Group leader is expected to arrive 1 hour prior to check-in to ensure the Ocean Spray Event Coordinator, Group Registrar and Participants are all on the same page at check-in.
Download the Group Registration Forms